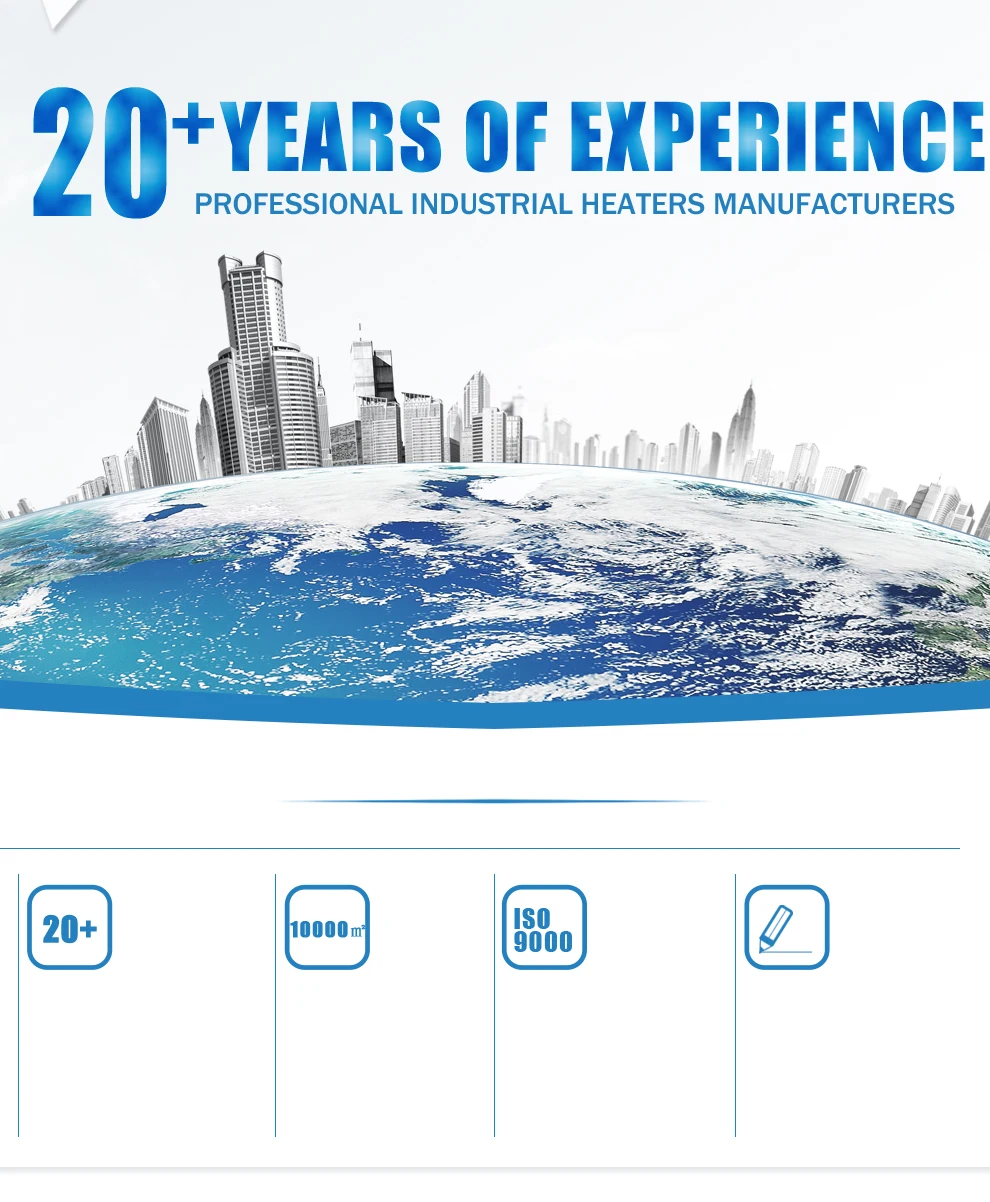 WHY CHOOSE US
20 years of Experience 10,000 m2 FACTORY ISO 9000 QUALITY R&D
SYSTEM CERTIFICATION
Songtai Factory was found in 1990 We have more than 10,000 We have a professional;
and has more than 20 years time. square meters of factory We have passed ISO 9000 engineer team of industrial ;
We professional in the production
and sales of industrial heaters.
building provide better .
production .
quality management system
certification, have strict
production quality management
program.
heater and we can provide
the best solution to the customer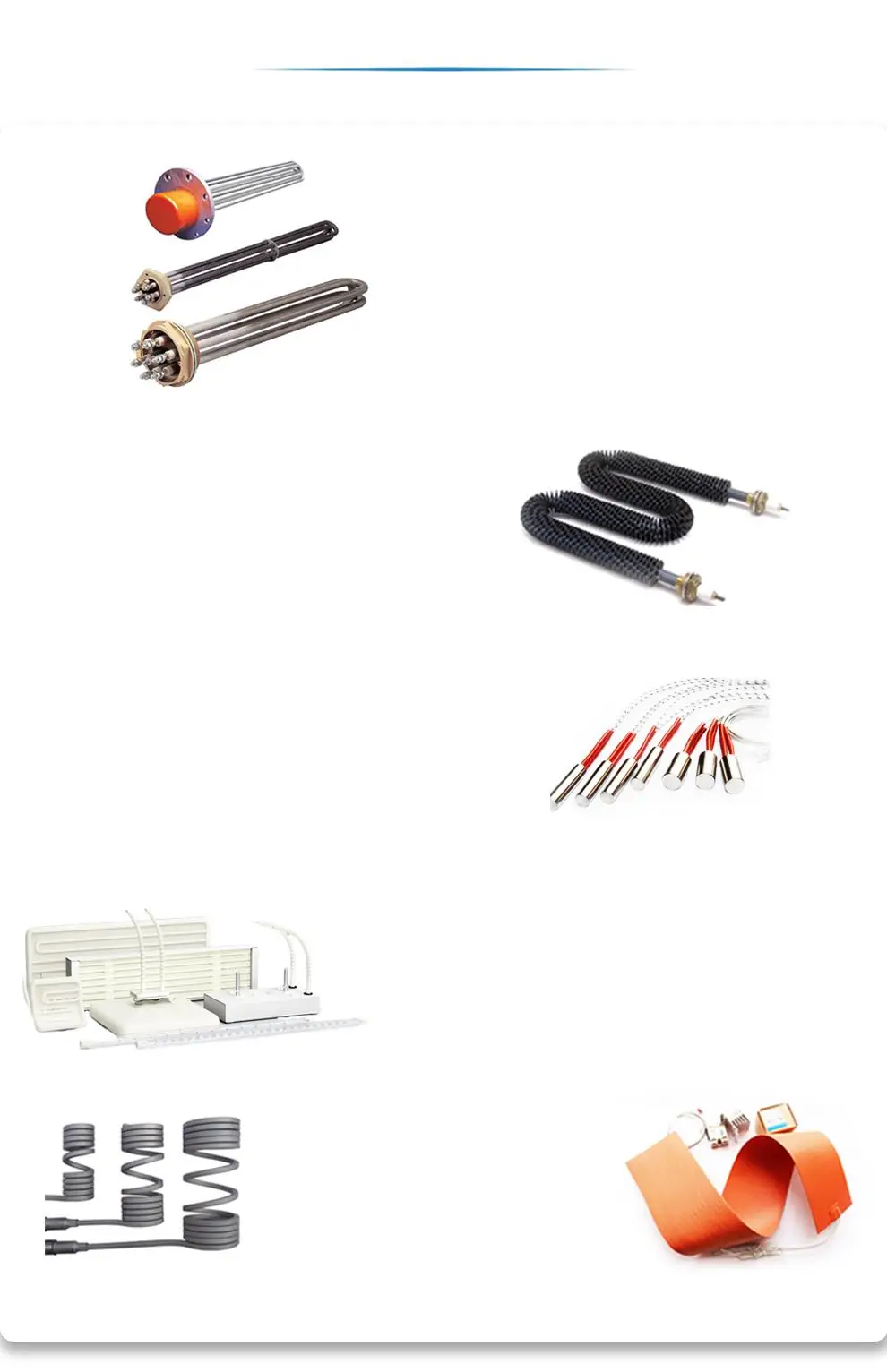 HOT PRODUCTS
<< Immersion Heater
Long working life,the immersion heater produced
by very high quality, we use high grade stainless steel
material(AISI 321,AISI 316 310S), and very high
quality Sweden resistance wire,and high purity MgO
power ensure long working life.Also the heater easy to
install,maintain and suit for many application: Tank
heating,water heating, oil heating,steam heating etc.
4-5days lead time for sample.
Finned Air Heater >>
Air heater Various Shape: U,W,I,Round and customized
the other shape as required.
Fast shipping 7-10days for large orders
High quality air heater warranty 8000 hours.
Application:Load Banks resistance heater,Drying,Heat
Treating,Annealing,Curing
Cartridge Heater >>
Fast heating,high density Size are customized, various
application:Internal heating of nozzles,Heating of cutting bars
Heating of hot stamps,Heating of manifolds,Mould
heating element etc
<< Ceramic Infrared Heater
1 High Quality German Nichrome Resistance Wire
2 Average Operating Life-Up to 20,000 hrs depending on conditions
3 Useful wavelength range: 2-10 microns
4 Recommended radiation distance from heater is 100 mm to 200 mm
5 Supplied with 100mm ceramic beaded power leads
<< Hot Runner Coil Heater
Spring Heater
Manifold Heater
Silicone Rubber Heater >>
Flexible Heater
Oil Drum Heater
3D Printer Heater

MULTI-LANGUAGE SITES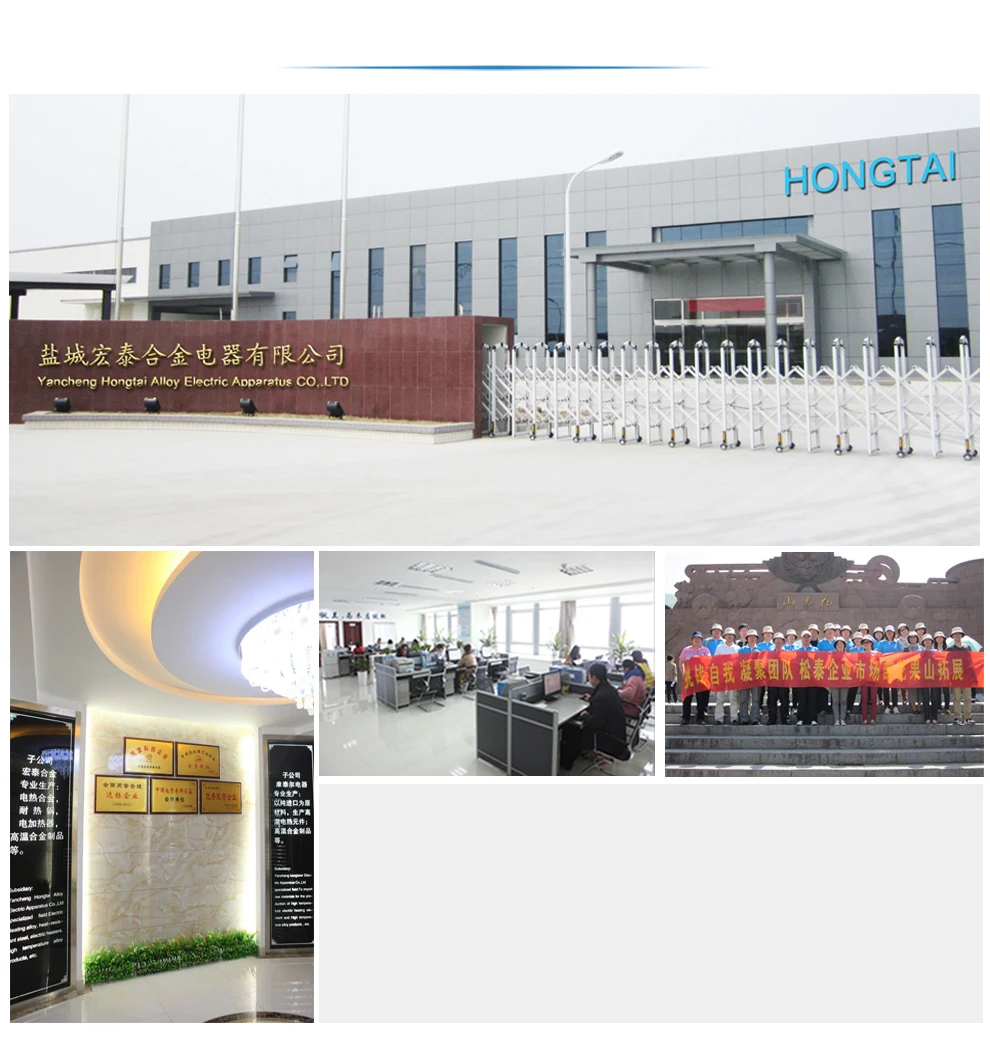 COMPANY INTRODUCTION
>> Yancheng Hongtai Alloy Electric Apparatus Co., Ltd is a professional
industrial heaters manufacturer, the branch of Songtai heating
element factory(found on 1990).
We provide a one stop solution to all industrial heaters needs.
Main products: tubular heater,cartridge heater, finned heater,
flanged immersion heater, infrared heater,band heater,
hot runner heaters and various temperature sensor.

OUR CERTIFICATE
ATTENDING TRADE SHOWS
MAIN PRODUCTS